Former Top Chef contestant and Vashon Island native Lia Lira has opened her restaurant, Bramble House in 2016. Bramble House is a modern American restaurant recently opened in the downtown area, offering brunch and dinner in a sophisticated environment.
In addition to competing on the third season of Top Chef, Lira is a 20-year industry veteran. She spent time in New York working at the River Cafe and Jean-Georges Restaurants as a trainer on the corporate team and later as culinary director. Recently she worked as culinary director for Sugar Mountain, whose holdings include Beecher's Handmade Cheese.
Serving modern dishes influenced by Lira's world travels: "While working for Jean-Georges I was lucky to do openings all over the world, and am influenced by a variety of ingredients and techniques I learned along the way," she says. "To me that's what modern American cooking is, the food that comes from the vast cultural mix that we're lucky enough to experience here in the U.S. Hopefully I can do a good job representing my take on it."
The Heart of the House
Service and settings are critical, but what about that kitchen? When you have a chef running the game, there has to be a minute to talk about where that food is coming from.
The kitchen is built with a large window to the dining room so the cooks are connected with the guests. For those who want to be close to the action, there is a small bar overlooking the kitchen's cold station, where four guests can enjoy a drink while waiting for a table or order from the full menu.
The name Bramble House references the summers of berry picking and bounty of Vashon that Lia grew up with and are reflected in local, seasonal menus.
Seattle and the area have a long established food scene, but what's happening on Vashon is amazing. There is a burgeoning network of producers, growers, foragers, farmers and cultivators and we are proud to have their products on our plates (and glasses, etc.) Some of our local partners are listed here and the Bramble House menu will always aim to heavily feature local foods.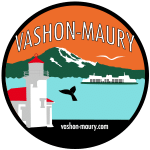 Vashon is an Island located between Tacoma and West Seattle. This account manages the vashon-maury.com website full on useful information for residents and visitors of the Island.