We are currently streaming worship each Sunday at 10 a.m. on Zoom.
We invite you to join us!
The church office is currently open Monday through Thursday 10-12.
Vashon Presbyterian Church seeks to experience God's extraordinary presence in our everyday life together. Our church is ever grounded in prayer, worship and the holy scriptures where the congregation can grow in knowledge and service to the community and world. We are richly graced by God and seek ways to celebrate and live out the teachings of Jesus with compassion and humility.
VPC's mission has evolved as our church and community have changed since the church's inception in 1904. We joyfully celebrate recent changes in policy of our denomination allowing us to affirm full inclusion of people of every ethnicity, gender, and sexual identity. We reflect our mission in service to the community. The Vashon-Maury Island Community Food Bank started in our church and grew to where it required its own larger facility. Our congregation still supports this mission partner with member participation as well as with monthly monetary and food donations. Our other mission partners include: the Presbytery of Seattle's Southeast Asian Ministry, Mary's Place (a women's homeless shelter in Seattle), Vashon Community Care, and the Interfaith Council to Prevent Homelessness. Our doors are open, allowing meeting spaces for many support groups, community forums and gatherings. Rehearsals for the Vashon Chorale and Opera company are held here. We have a partnership in building usage with both the Creative Preschool and Harbor School's Carpe Diem Primary School. During Strawberry Festival, our church provides accessible parking and viewing chairs for the Grand Parade with funds forwarded to specified missions.
Historically VPC has purposefully served Vashon Island in a variety of ways. With God's help, we are committed to addressing our community's ever changing needs as we worship God and advocate for justice, equality, and respect for all people.
Listening to God, embracing all, living in joy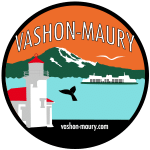 Vashon is an Island located between Tacoma and West Seattle. This account manages the vashon-maury.com website full on useful information for residents and visitors of the Island.