There are places that feed your soul. That clear your mind. That bring you back to what is really important. For us, that place is Vashon Island.
Whether you're here for a quick weekend getaway or an extended stretch of rest and relaxation, we are here to make sure you return home that best version of yourself. So stroll through town, pop into quirky shops, mingle with colorful locals and, when a day of exploring leaves your feet tired, gather in our communal areas for a shared experience that mirrors Vashon's sense of community or retreat to your private lodge and cozy up by the fire with a glass of local wine.
Property Info
Check in: 3:00 PM
Check out: 11:00 AM
Two-night minimum stay during weekends, May through September
Pets
We welcome pets on property – up to 2 pets per lodge. Please let us know in advance if you are planning on bringing a pet. A $25 pet cleaning fee will apply to stays 3 nights or less, and a $50 fee will apply to stays 4 or more nights. Due to potential guests with pet allergies, we have designated certain lodges to be pet-friendly and must keep the other lodges pet free. Please be sure to tell us you have a pet when making your reservation. If you do not report having a pet before checking in, a $100 fee will be charged. Please note that pets are not allowed in Public House.
Dining
The Lodges on Vashon does not offer an on-property restaurant, however, the property has a gas BBQ, microwave and two induction hot plates that guest may use to prepare their own meals. Additionally, there are many dining options within a five-minute walk.
Smoking
Smoking is not allowed on property. Guests who smoke on property will be fined $100. Guests will be fined $250 if staff finds that guest smoked inside a lodge.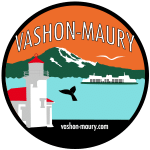 Vashon is an Island located between Tacoma and West Seattle. This account manages the vashon-maury.com website full on useful information for residents and visitors of the Island.