The Point Robinson Lighthouse is one of the more popular things to do on Vashon Island by not only those visiting the island, but for residents as well. Just a simple Google search can show you how popular the Point Robinson Lighthouse is for amateur and professional photographers alike. No matter what time of day or during what season, the lighthouse always has a certain appeal to it. Surrounded by a quaint pebble beach not usually found on the island, with the traditional driftwood protection from the tides of Puget Sound. The Park Department often offers tours and a quick History Lesson to the Point Robinson Lighthouse if you make it at just the right time.
Be sure to make this one of your things to do on Vashon Island and tell all of your friends about your experience.
A Brief History
Point Robinson Park is considered to be one of the jewels of Vashon Island. The Island's first fog signal was built here in 1885, along with Quarters A, a barn and a chicken coop. Quarters B was constructed in 1908, and the oil house was added in 1913. The Point Robinson Lighthouse was built in 1914 by the U.S. Bureau of Lighthouses and is still a working lighthouse. You can see the Fresnel lens in action during one of Captain Wubbold's (USCG, ret.) insightful lighthouse tours.
Vashon Park District acquired the property in 1997 from the U.S. Coast Guard. The buildings were in serious need of maintenance, and with the help of the volunteer group, The Keepers of Point Robinson, they all have been renovated, and the two historic Keepers' Quarters are now vacation rentals. The income from these rentals helps us maintain the park. The Keepers operate a small gift shop on the grounds that provides funding for their contribution to the park's upkeep.
It's an extraordinary setting where friends and families come to relax and play. Both houses are privately fenced and offer cozy porches from which to watch the world float by. Kids love building forts on the beach, and it's a perfect place to fly kites, watch cargo ships steam past, and occasionally see the Orca whales swim surprisingly close to shore. We hope you'll stay with us. It really is amazing.
Renting the Houses
Pt. Robinson Stewards have fully restored the two Keepers' Quarters on the property for use as rentals. All proceeds from these rentals goes back into the park's restoration and maintenance.
Quarters A is a three bedroom, two-bath house which has been renovated to accommodate
up to six overnight guests. There are two queen beds and two twin beds. The house has a full kitchen, dining room and living room with a picture window looking out at Puget Sound and Mount Rainier. Two roll-a-ways are available for an additional nightly fee of $10 each.
Quarters B is a two bedroom, one-bath house beautifully restored to resemble its 1919 historical condition complete with a sitting parlor. There is one full-sized brass bed and two twin beds. Two roll-a-ways are available for an additional nightly fee of $10 each. The house is adjacent to the caretaker's residence.
Reservation Information
Sunday tours of the Lighthouse are available mid-May through mid-September. During the off-season, tours can be scheduled by calling Captain Joe Wubbold at 206-463-6672.
The Ship's Store Gift Shop is open seasonally on Saturdays and Sundays, noon to 5:00 p.m. Call for additional information at 206-463-1323.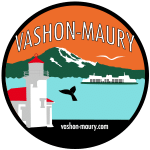 Vashon is an Island located between Tacoma and West Seattle. This account manages the vashon-maury.com website full on useful information for residents and visitors of the Island.