Fair Isle Animal Clinic is proud to serve Vashon Island for everything pet related.
Our team is committed to educating our clients in how to keep your pets healthy year round, with good nutrition and exercise. Fair Isle Animal Clinic stays on top of the latest advances in veterinarian technology and above all, remembers that all animals and pets need to be treated with loving care in every check-up, procedure, or surgery.
Appointments
To provide the best possible care to our patients and clients, we primarily operate by appointment only. Our receptionists will attempt to accommodate all requests to the best of our ability. Regular appointments are seen Monday through Saturday, while emergencies are accepted anytime. If you feel you have an emergency with your pet, please call us immediately at (206) 463-3607.
Emergency & Urgent Care
Fair Isle has a veterinarian on call 24 hours a day to assess and treat potential emergencies. If you feel you have a veterinary emergency, please call us immediately at (206) 463-3607. If possible, it is best to call before coming so that a staff member may advise you on your particular emergency. If you feel that you have a veterinary emergency after hours or on a Sunday please call our office at (206) 463-3607 and follow the recorded steps to page our on call veterinarian. Please note that, if an emergency visit is necessary, an emergency fee will be applied to the bill in addition to regular charges for other services, treatments, and diagnostics.
At Fair Isle Animal Clinic, we can care for many types of pets:
Dogs
Cats
Rabbits*
Pocket Pets*
Reptiles*
Birds*
Small Farm Animals*
*Select veterinarians only. Call us for more information.
Laser Therapy
Fair Isle Animal Clinic offers Companion Laser Therapy. Laser therapy provides a non-invasive, pain-free, surgery-free, drug-free treatment which is used to treat a variety of conditions including: arthritis, general and post -surgery pain, skin conditions (hot spots, infections etc.), ear infections, and wounds.
Laser therapy stimulates the body to heal from within. Non-thermal photons of light are administered to the body and absorbed by the injured cells. The cells respond with a higher rate of metabolism. The result is a relief from pain, increased circulation, reduced inflammation, and an acceleration of the healing process. Companion Laser Therapy
Acupuncture
A few words on acupuncture from Dr. Nell Coffman:
I first became interested in traditional Chinese Veterinary Medicine in the late 1980's. It was my own experience with acupuncture for planar fasciitis in my heel and elbow tendonitis that first sparked my interest.
I think it's fascinating that so many of the speakers at Veterinary Acupuncture meetings are Neurologists or Internists. They all have stories of being extremely skeptical about acupuncture and herbology, but saw such amazing results in both animals and themselves or their families that they became certified and now lecture worldwide.
I took the International Veterinary Acupuncture Society (IVAS) acupuncture course in San Diego in 1990 – 1991. I was a teaching assistant at the Portland IVAS certification course in 2010 – 2011. I have attended advanced acupuncture classes at the Chi Institute in Florida and have taken online herbology.
I feel that the future of medicine- both animals and human, will be an integrated approach using both Western medicine and traditional Chinese medicine.
On the right: Dr. Nell performs electroacupuncture (EAP) on a patient.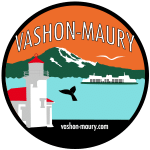 Vashon is an Island located between Tacoma and West Seattle. This account manages the vashon-maury.com website full on useful information for residents and visitors of the Island.