COVID-19 UPDATE:
"The CDC has now recommended that all non-urgent eye care be postponed due to concerns related to COVID-19. Effective March 19, 2020 through April 4, 2020, all of our offices will be moving to limited hours and limited staff. Our offices will be open Monday, Wednesday, Friday from 9AM – 12PM. We are postponing routine exams and prioritizing medical or emergent visits (post-ops, eye pain, sudden decrease in vision, glaucoma follows ups, broken glasses, etc). If you have any questions on whether your case would be seen as emergent, please give us a call at (206) 463-2020 and speak to our front desk staff.
If you do have to come into the office, we are asking that you limit the number of people you bring with you. We are doing our part to limit the number of people in the office, so you may be asked to wait outside or in your car until it is time for your appointment. If that is the case, we will either call or text you when it is your turn. For glasses pick up, we will be available to do basic adjustments and repairs, but due to our limited staff, waits could be a little longer. We are also offering to bring your glasses or contacts out for curbside pickup if that would make you more comfortable. We ask that you give the office a call when you've arrived and let us know what vehicle to look for. If you have a balance, payments can either be made over the phone or, with your permission, we can take your payment inside the office and return with a receipt for you.
Thank you for your understanding during this time and stay safe!"
——————————————-
Our Mission is to provide our patients with the highest quality eye care and materials in a friendly and professional manner. Our vision is to take care of your vision today and in the future, promoting healthy eyes throughout your golden years as well as your youth. Eyeland Optical has been serving Vashon for over 40 years. We offer family eye care in a professional and friendly atmosphere. Examinations are available for comprehensive vision care and contact lenses, including colors, gas-permeable, disposable and the new CIBA Night & Day lenses (approved for up to 30 days continuous wear). In addition to routine vision care, Dr. Jon Willems, Dr. John Mayes and Dr. Michael McCown offer treatment and management options for cataracts, glaucoma, dry eyes, eye infections, retinal disorders, nutritional eye care and LASIK laser surgery. The optical dispensary offers hundreds of frames ranging from designer one-of-a-kind to value lines for the budget-conscious. Our own eyeglass laboratory cuts & edges our precision lenses.We are providers with most major insurance companies and will gladly research your vision benefits for you prior to your eye exam.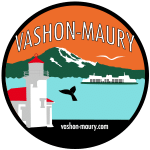 Vashon is an Island located between Tacoma and West Seattle. This account manages the vashon-maury.com website full on useful information for residents and visitors of the Island.