Virtual Services
September through June
via Zoom at 11am
Link: viuf.org/sunday
We, the members of Vashon Island Unitarian Fellowship, strive to build healthy relationships as a spiritual practice. We intend our promises to foster trust, empathy, learning, and freedom.This covenant is meant to create a sanctuary for all. It will evolve over time to meet the needs of our congregation.
In all our relationships, we commit to these shared values and principles:
We stand on the side of love. Love is electric. Its flow enables us to transcend that part of us which is small, and centered on self. It generates joy and gratitude, and inspires service. Love in action is our foundation for spiritual growth.
We honor each other. We respect the common humanity and sacred spirit within each of us. We support each other in difficult times and celebrate our joys together.
We welcome all who enter our fellowship. We listen for and reflect back each person's deepest dream for being alive. We warmly greet newcomers, seek to know each other and find common ground.
We preserve the safety of our community.  For our aspirations to be fulfilled, our community must be a place of safety. To this end, we respect healthy boundaries, maintain appropriate confidentiality, and commit to policies and actions which preserve a safe environment.
We heal broken relationships. We affirm that conflict often reflects what is important to us at our deepest level. We listen carefully, remaining open to what others say. We speak candidly, with tact, empathy, and good humor. We focus on issues and behaviors, not people and personalities. We recognize human fallibility and call upon ourselves first to look inward, make amends, seek and offer forgiveness.
We maintain our sacred space. We care for and beautify the places where we gather. We make time for quiet contemplation or prayer; reverence and spiritual expression; tears, laughter and joy.
We honor our commitments. As individuals, we contribute time, energy, skills, and financial assets, participating in the mission, goals and ministry of the fellowship. We sustain these commitments, even when we disagree with decisions, or find ourselves in conflict with others. Together, we commit to building a strong foundation for VIUF's future. As a congregation, we will maintain our connection with the people and principles of the larger Unitarian Universalist movement.
We practice participatory governance. We adhere to transparent, democratic processes. In decision-making, we seek consensus that honors both majority and minority views. As individual members of this fellowship, we commit to understanding how our fellowship works, so that we can be informed and effective participants.
We promote leadership and involvement. We recognize and support our leaders. We encourage new leaders, and others, to step forward. We respect the need for balance in life and sensitivity to personal limits of those serving.  
We engage beyond our walls. Our love calls us to act for peace, social and economic justice, freedom of belief, and protection of the planet and its inhabitants.  As individuals and as a fellowship, we engage in worthy local and global causes. We stay informed on issues of our time. Though each step may seem small, we persevere, our spirits renewed by involvement. By our actions, we hope to inspire others to join us in this work.
Each of us strives to embody and enact these promises—holding steady in right relationships. We may falter, but our commitment to this covenant helps us stay the course.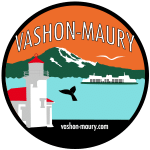 Vashon is an Island located between Tacoma and West Seattle. This account manages the vashon-maury.com website full on useful information for residents and visitors of the Island.