Weekly pre-order dinners coming soon! Menu and details TBA on our website.
Our new spot:
9923 SW178th Street, Vashon
About Orca Eats
Orca Eats is a seasonal food truck serving mouth-watering, locally sourced food on Vashon Island, Washington, Spring to Fall. The truck boasts a small and mighty menu that changes every week: entrées, desserts, and beverages truck-made from mostly local ingredients, some grown in the Orca Eats garden.
2020 was a weird one! Oona the truck stayed parked while her people farmed beautiful produce, now resting in the deep freeze to be used in sauces (tomatoes! basil!), stacks and boats (kale pesto! sprouting broccoli!) and desserts (wild blackberries!). Now we're back open, and so happy!!!
Orca Eats is committed to the environment and the Vashon community: sourcing, hiring, serving and giving back to the Island. We use only biodegradable, plant-based plates and utensils: wood forks and spoons, paper, palm and cane fiber plates and cups — zero single-use plastic!
Did you hear about our Soup Project at the Vashon Maury Food Bank this past Fall-Winter? We delivered over 1,400 12-oz portions of fresh soup to the food bank for clients to pick up with their weekly grocery distribution. Because of the Soup Project, we learned that a little food truck can do a lot of good in our community. Starting in Fall, 2021, Orca Eats will serve free lunches once a week. Location, day and time to be announced. Would you like to help feed our community? Buying food at the food truck helps a lot, and so does paying it forward with cash, check or card in person at the food truck or online here. We balance our books and budget carefully to be sure there's enough for everyone. Everything you purchase helps us feed Vashon. (See, that chocolate pudding purchase was very generous!)
Covid-19 still has us concerned about day to day, but we are optimistic that 2022 will be smoother. If you're planning a bash – wedding, retirement, house party or concert, or a community event, please call or email to talk menus and dates. Next year we're all in for catering and events, hoping to bring in the $$ to support our free lunch program, which hopefully will grow and grow and never stop.
Our growing situation is kind of a farm, but really just a very large garden. Whatever it is, it produces a crazy amount of tomatoes, cucumbers, and other goodies. Last year we had oceans of basil, sprouting broccoli and kale. This year we're focused on tomatoes, cukes arugula, and peppers – hot and not. It's a pleasure to work in the soil, save seeds, eat snacks right off the vine, and plan menus around what's growing. We buy produce from local farms when possible, including pasture raised beef and pork from Eastern Washington. With Orca Eats, "know your farmer" has real meaning.
With simple graphics on a black exterior, a quiet onboard generator, stainless steel kitchen, and large service window, the Orca Eats food truck is surprisingly elegant in any setting. Oona the truck didn't come to Vashon looking like it does now, and much is a mystery about our wonderful truck. A Texas native, the vehicle started life in 1989 as a delivery truck (Doritos?), then as a red taco and burger truck. Now the truck dishes out delicious, local Orca Eats food and enjoys Vashon Island life!
We hope to see you soon!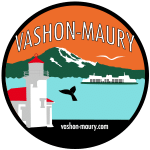 Vashon is an Island located between Tacoma and West Seattle. This account manages the vashon-maury.com website full on useful information for residents and visitors of the Island.