Camp Sealth is an experience you'll never forget!
Camp Sealth helps kids build strong character, values and life skills. We're a friendly, inclusive and diverse community of campers and staff who share a love of the outdoors. Camp Sealth is dedicated to making this a truly unique summer adventure!
Camp Sealth has camp programs geared for kids of all ages.Classic Camp features our favorite camp activities, Horse Camp gets you in the saddle,pec Sialty Camps focus on one main activity such as archery, arts & crafts, or outdoor skills,Adventure Camps let you explore the beautiful Pacific Northwest, and Leadership Camps are great for teens seeking new skills and opportunities to earn service hours.
What Makes Camp Sealth Unique
Camp Sealth's longstanding commitment to diversity and inclusion make our summer camp a unique and fulfilling place for all campers. We take pride in providing a high quality camp experience for children of all ages, encouraging them to try new things, make friends, and develop a sense of independence.
Founded in 1920, Camp Sealth is one of the oldest and most successful summer camps on the West Coast. Sealth is located on Vashon Island, with over 350 acres of pristine forest and 1.5 miles of private beach on Puget Sound.
Camp Sealth is accredited by the American Camp Association, meeting hundreds of standards for safety and program quality. We offer affordable sessions and financial aid for families of all income levels. Programs are available for youth of all genders ages 5 to 17, with sessions ranging from 4 days to 2 weeks.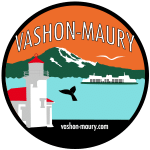 Vashon is an Island located between Tacoma and West Seattle. This account manages the vashon-maury.com website full on useful information for residents and visitors of the Island.