Vashon Island in Washington State, celebrated for its serene landscapes and vibrant community, has been enchanted this summer by the arrival of Oscar The Bird King, a whimsical giant Troll sculpture. Located in the scenic Point Robinson Park, this masterpiece is the brainchild of world-renowned Danish recycle artist Thomas Dambo, who has captivated millions globally with his unique and environmentally conscious art installations.
Community Engagement and Mixed Reviews
While the giant trolls have sparked awe and wonder, not all feedback has been positive. Claire Emanuel voiced her discontent, citing increased tourism and disruptions. However, many others, including Darci Lunney, Suzy Orpin Kelly, and Laura Celis, have expressed their admiration for Dambo's work, citing his passion for the planet and the unique, affordable family experience his sculptures offer. Find more reviews on Thomas' Facebook page at https://www.facebook.com/thomasdambos/reviews.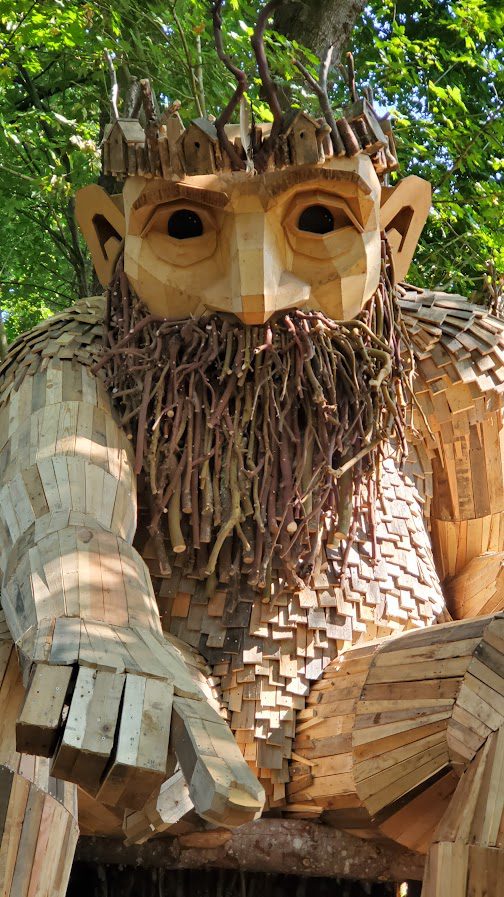 Crafting Enchantment: The Visionary Thomas Dambo
Thomas Dambo, acclaimed as the world's leading recycle artist, specializes in crafting large-scale Troll sculptures from recycled materials. With over 100 magical creations scattered across the globe, Dambo's work fosters environmental stewardship and encourages people to explore and protect natural spaces. His art has been featured in international media sources such as BBC, National Geographic, The Huffington Post, and Australian Broadcasting Company. You can follow his journey on Facebook and Instagram @ThomasDambo, and learn more about the Northwest Trolls at www.nwtrolls.org.
Having achieved international acclaim, with features in renowned media outlets and a strong presence on social media, Thomas Dambo continues to spread his message of environmental stewardship through his latest venture. Transitioning from his individual masterpieces, we delve into Dambo's collective narrative with The Tale of the Northwest Trolls. This enchanting installation, completed in September 2023 and presented by the Scan Design Foundation, weaves together art, nature, and sustainability across various locations, each Troll telling a unique story of environmental significance.
The Tale of the Northwest Trolls
September 2023 marked the completion of Dambo's "Northwest Trolls: Way of the Bird King" installation, presented by the Scan Design Foundation. This series of publicly accessible sculptures, spread across Portland, Bainbridge Island, Issaquah, West Seattle, Vashon Island, and Ballard, epitomizes the harmony of art, nature, and sustainability. Each Troll depicts a unique environmental story, emphasizing the significance of watershed protection and riparian habitat preservation.
The project collaborates with the Muckleshoot and Snoqualmie tribes, celebrating the cultural heritage connections between Coast Salish tribal communities and Danish and Scandinavian traditions. "Working shoulder to shoulder with Thomas and his team was a real trade of our respective cultures. I feel we are kindred spirits and have formed life-long friends. I'm proud to be part of the Dambo tribe now, too!" shares John Halliday, who goes by the artist fondly known as Coyote.
Coyote embarked on a journey to Denmark, immersing Dambo and his team in the richness of Coast Salish history, culture, and stories. This cultural exchange was immortalized in art as Coyote painted a mural of a Salish-style orca on one of Dambo's buildings, symbolizing its significant role in the "Northwest Trolls: Way of the Bird King" fairy tale.
Coyote's contribution extended beyond storytelling and mural painting. He was instrumental in designing a flute and decorating Bruun Idun, one of the trolls, with traditional cedar and abalone shells. Coyote explained, "We put these things on the troll to show that we are welcoming it. We are gifting these things to the troll so that we know that it aligns with our messages that we also give to our children, that it's important to take care of Mother Earth." This alignment of values was evident as Dambo and Coyote found common ground in their shared beliefs about recycling, reusing materials, and being conscientious stewards of our planet. "They really deeply, deeply care about taking care of our planet, which closely aligns with the tribal values that we have," affirmed Coyote.
Dambo's commitment to spreading awareness about environmental conservation is vividly depicted through his trolls. As he succinctly put it, he aims to convey "how important it is that we don't empty our world from resources and then use those resources to drown our world with trash." The "Northwest Trolls: Way of the Bird King" project is vast with Bruun Idun being the third to be unveiled.
Oscar, The Bird King: A Crown of Sustainability
Unlike his counterparts, Oscar The Bird King boasts distinctive features, including a crown of birdhouses made from wood scraps and leftover materials, underscoring Dambo's commitment to sustainable art. Local residents contributed to Oscar's grandeur by donating strands adorned with natural objects like driftwood, shells, feathers, and stones.
Beyond the Sculptures: Engaging with Nature
Thomas Dambo's colossal troll sculptures serve as more than just artistic marvels; they are gateways to enchanting realms, inviting people to connect deeply with nature and fostering a sense of environmental stewardship. Like Hector El Protector in Puerto Rico, each creation embodies a unique story of resilience, community spirit, and the harmonious relationship between humanity and the environment. The trolls, meticulously crafted from recycled materials, underline Dambo's commitment to sustainability and encourage reflection on consumption and conservation.
Located in diverse ecosystems, from tropical terrains to temperate forests, the sculptures integrate harmoniously with their surroundings, showcasing the adaptability and beauty of nature in various forms. They inspire exploration and wonder, beckoning adventurers to discover the untold stories within the landscapes and to perceive the melodies of nature. Each troll serves as a dynamic entity, igniting conversations around environmental stewardship and the importance of living harmoniously with the natural world.
In essence, Dambo's creations are not just stationary art installations but symbols of the symbiotic relationship between art and nature. They stand as reminders of our responsibility towards the planet, fostering community engagement and encouraging individuals to explore and protect the diverse and wondrous world around them.
A True Community Effort: The Journey to Vashon
The inception of Oscar on Vashon Island is a testament to community collaboration. It began with Lotta Charlotte-Gavin, a troll expert and resident, and evolved into a concerted effort involving various organizations and individuals.
It was a true community effort to bring Oscar, the Bird King to Vashon.

Lynann Politte
In addition to the funding from Scan Design Foundation, as well as Paul G Allen, Cheryl Lubbert/Jim Gerlach, and other supporters, the project saw contributions from local businesses and volunteers. Oscar joins his cousins, Ole Belle, Pia the Peacekeeper, Frankie the Feet Splinter, Bruun Idun, and Jakob Two Trees, in enchanting the Pacific Northwest.
At the end of the day… Oscar, The Bird King's arrival on Vashon Island symbolizes a beautiful confluence of art, community, and environmental mindfulness. Our little Island gem of the Puget Sound, known for its serene landscapes and vibrant community, has been further enchanted by this whimsical giant troll sculpture, showcasing Thomas Dambo's unique and environmentally conscious artistry. Despite a spectrum of opinions, the masterpiece stands as a testament to Dambo's ability to weave creativity with nature, fostering a sense of unity and cultural connection among the inhabitants. The sculpture enhances the island's aesthetic allure and invites individuals to explore and appreciate the intricate relationship between art and the natural world.
The diverse reactions to Oscar around the globe are not reflective of Vashon's view, The Bird King highlights the varying perspectives within the community with the overarching theme of harmony with nature. Dambo's innovative approach to integrating recycled materials into his work serves as a constant reminder of the importance of sustainability and environmental stewardship which is important to this community. In essence, the presence of Oscar on Vashon Island embodies a compelling narrative of exploration, cultural exchange, and a shared responsibility toward nurturing and preserving our delicate ecosystems.
We invite you to share your reflections and perspectives in the comments below. Whether you've had a chance to visit Oscar, The Bird King, have been following Thomas Dambo's enchanting creations, or are intrigued by the harmonious blend of art, nature, and community, we welcome your thoughts and stories. Engage in the conversation and let your voice be a part of the unfolding tapestry of this magical narrative. Your insights are valuable to us and help in fostering a community of shared experiences and appreciation for the art that connects us to our environment and to each other.