Thrift store and more – antiques, collectibles, furniture, computer equipment, small appliances, clothing, kitchenware and books. The mission of the Health Center Volunteers, a non-profit organization, is to contribute to health care for residents of Vashon Island by supporting the Vashon Health Center and fostering the health-related charitable and educational needs of the community.
Click here for more info.
MASKS ARE REQUIRED AT ALL TIMES IN THE STORE OR WHILE IN LINE.
NO EXCEPTIONS!!
Temporary Retail Store Hours:
Wednesday to Saturday – 12:00pm to 5:00pm  – 40 people for 30 minutes – Thank you for your understanding
The first forty people will line up outside of the store, on the social distancing dots.
Those forty will be able to enter the store when it opens.
Anyone who does not make it into the first forty shoppers will be able to get a ticket for a future shopping time that day. Remember shopping times will be every 30 minutes.
There will be forty tickets available for every thirty minute period between noon and 5:00 pm. Last group of shoppers will go in at 4:30 p.m.
You may request ONE TICKET for any available time, and when that time comes, you will be allowed in the store by an attendant with that ticket, at that time.
One Ticket Per Shopper. No "guests." Please do not bring children.
Maintain 6 feet of distance from others at all time, in line, in the store, at the checkouts.
When your 30 minutes are up, you must leave the store. The next shopping group will not be allowed in until the previous group is out of the store.
How to Shop at Granny's On-Line:
Please visit https://vashon-grannys-attic.myshopify.com to see the treasures that Granny's has for you.
Items can be sorted by Department, Description, or Item Number on the site.
Select the items you'd like to buy and then pay with a credit card on the site.
Make note of your order number, you will need this for pick up at the store.
Your items at the store on the next business day (Wednesday – Saturday).
When arriving at the store, please maintain six feet of distance from others.
Give your name and order number at the Store Door.
Upon receipt of your items, verify your order.

ALL ON-LINE SALES ARE FINAL. NO DELIVERY OR SHIPPING. CURBSIDE PICKUP ONLY
Temporary Donation Hours:
Wednesday to Saturday – 12:00pm to 5:00pm
All Donors must wear a mask and observe social distancing when donating.
Donors must line up as directed.
One Donor at a time (one vehicle is one donor).
We accept two (2) grocery bags or similar size boxed or bagged donations per Donor per donation.
We will also gladly accept empty medium sized boxes and plastic bins with lids in addition to your donation.
At this time, we cannot accept furniture, large bags, or large boxes filled with donations.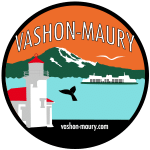 Vashon is an Island located between Tacoma and West Seattle. This account manages the vashon-maury.com website full on useful information for residents and visitors of the Island.