Discover the joy of horsemanship at Westside Stables, a great place to ride…
A respected riding school since 1985, hundreds of kids have learned the joy of riding and horsemanship at Westside Stables. From pleasure riding to competition, owner/instructor CiCi Carson can help you meet your riding goals.
English & Western riding lessons for all ages and levels
Whether you're a new rider or furthering your education. Lessons at Westside Stables are well known for being professional and enjoyable. We offer lessons in packages and single sessions. School horses available.
Enjoy the view of Vashon Island from horseback with our guided trail rides…
Trail rides are an adventure to remember whether you're planning a birthday party or special ride with your child. Our well-trained horses and knowledgable guides ensure your safety and enjoyment along the way. We are predominately a riding school for children, so we mostly have small horses and ponies. We can accomodate a rider up to 150lbs. Reservations secure a custom tailored ride for you.
Trail Ride: $75/hour per horse
We do birthday parties for up to 12 guests, tetherball, pond, chickens, fetching dog, and of course pony rides! Enjoy cake, ice cream and experience 'Life on the Farm' for an afternoon!
Birthday Party: from $350
Every rider must sign a release of liability form. Please be sure each parent has signed the form and it comes along with every child.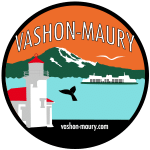 Vashon is an Island located between Tacoma and West Seattle. This account manages the vashon-maury.com website full on useful information for residents and visitors of the Island.